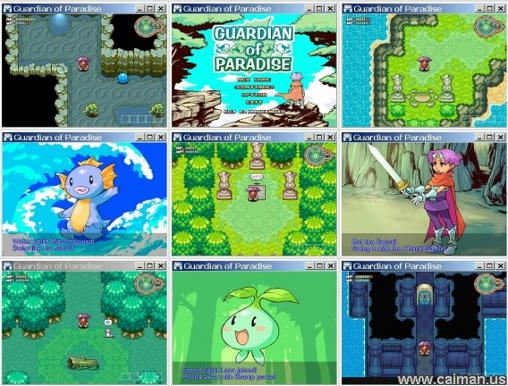 A Superb Zelda-ish RPG / Adventure
Guardian of Paradise is a fun little Zelda-ish game what is a japaneses RPG /Adventure that has been translated into Engilsh. You are a young boy called Tela who's sister has fallen ill, know one is sure whats wrong with her but legends tells of Healing waters in Paradise, so Tela sets out on his quest to save his sister. He encounters elemental spirits along the way, which provide magic, and the basis for the game's puzzle system. The Game is excellent with great graphics, sound and gameplay and will keep you hooked for ages as you work your way across this mysterious land. Every level you pick up a Magic item that will help you on the next part of your quest. Kill the monsters complete the puzzles and be the Hero. This game is a must for a download for all and for Caiman members has been zipped so no install file...
Controls :
Arrow Keys.
Z - Action/Attack.
X - Spirit Power.
C - Switch Spirit Power.
Q - Save Game.
F1 - Collection Screen.
ESC - Game Options.
DOWNLOAD
for: Windows XP:
http://www.mediafire.com/file/fwujnkojwej/2717-GOP.zip
for: Windows
7
http://www.mediafire.com/file/5h9hqy0pno3bhqr/GOP_windows_7.zip